2017 All-Tournament Teams Announced!
Most Valuable Player, Most Valuable Goaltender, and Playmaker chosen for each division!
May 18th, 2017 at 5:13PM
June 7th, 2018 4:57PM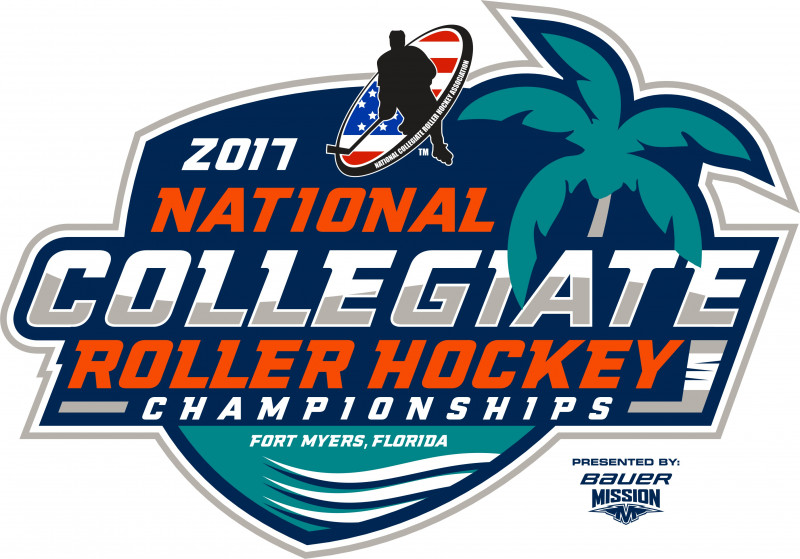 ---
Congratulations to all the teams and student athletes who participated at the 2017 National Collegiate Roller Hockey Championships in Fort Myers, Florida The NCRHA would like to further recognize the following players, who have earned the honor of being selected for the 2017 All-Tournament Team. Congratulations to all!
DIVISION I
1st Team:
Luc Corso - Farmingdale State College
Trenton Matteson - Lindenwood University
PJ DiMartino - Farmingdale State College
Jalen Krogman - Lindenwood University
Dustin Muccio-Schrimpe - Farmingdale State College
2nd Team:
Wes Fry - Arizona State University
Josh Weger - Farmingdale State College
Kyle Mooney - University of California Santa Barbara
Eric Purcell – Michigan State University
Paul Town - Lindenwood University
Most Valuable Player: PJ DiMartino - Farmingdale State College
Most Valuable Goaltender: Dustin Muccio-Schrimpe - Farmingdale State College
Playmaker: Jalen Krogman - Lindenwood University
Honorable Mention:
Chance Boutin - Grand Valley State University
Cody Bryant - Bethel University
Luke Buchy - Miami University
Mac Burkhard - Michigan State University
Nick Cafone - Florida Gulf Coast University
Kyle Clements - University of California Santa Barbara
Joseph Coffin - Rowan University
Ryan Cotton - Arizona State University
Colin Cyr - Michigan State University
Davis Delseni - West Chester University
Jack Dobek - Eastern Michigan University
Ryan Dougherty - University of Massachusetts
Stephen Falkowski - University of Rhode Island
Shane Fox - Neumann University
Blake Freund - University of Missouri St. Louis
Andrew Gagnon - Hofstra University
Jaccob Gibbons - University of Missouri St. Louis
Tucker Gilliland - Michigan State University
Marky Hager - University of Missouri St. Louis
Jayme Haveman - Arizona State University
Tyler Hoffman - University of Missouri
Ryan Johnsen - Bethel University
Chase Kallen - Michigan State University
Tyler Kraft - Neumann University
Daniel Kumata - Cal Poly San Luis Obispo
Will Lalor - University of Rhode Island
Hunter Ledgerwood - Eastern Michigan University
Blake Lochhead - Bethel University
Aaron Marcel - University of Massachusetts
James Milletics - Western Michigan University
Kevin Mooney - University of California Santa Barbara
Trevor Mullaly - Florida Gulf Coast University
Matthew O'Shaughnessy - Farmingdale State College
Cody Page - Lindenwood University
Tanner Pederson - University of Missouri
Garrett Polish - Grand Valley State University
Kadin Ricciardi - Bethel University
Chris Russolello - Farmingdale State College
Michael Schubert - University of Missouri St. Louis
Braxton Shultz - Arizona State University
Adam Swims - Lindenwood University
Dan Trunk - Robert Morris University
Josh Ward - Western Michigan University
John Whitman - West Chester University
Kenny Wurth - Grand Valley State University

DIVISION II
1st Team:
Kyle Alexander - California State University Fullerton
Michael Curtis - University of Tennessee
Jack Mali - University of Tennessee
Troy Yano - California State University Fullerton
Ron Best - California State University Fullerton
2nd Team:
Brandon Olinger - California State University Fullerton
John Duranczyk - University of Arkansas
James Lovberg - California State University Fullerton
Cole Euell - California State University Chico
Daniel Falls - University of Tennessee
Most Valuable Player: Kyle Alexander - California State University Fullerton
Most Valuable Goaltender: Ron Best - California State University Fullerton
Playmaker: Michael Curtis - University of Tennessee

Honorable Mention:
Nick Balaban - California State University Fullerton
Matthew Bleefeld - University of Florida
Rory Buckley - Stony Brook University
Jason Burtch - University of Florida
Zachary Claunch - California State University Chico
Jimmy Curtis - University of Tennessee
Kendall Curtis - The Ohio State University
Mike D'Angelo - University of Florida
Casey Danielski - DePaul University
Reed Davis - University of Tennessee
Ari Drazin - Yeshiva University
Keegan Durment - University of Denver
Corey Eisenband - Endicott College
Oliver Eklund - University of Arkansas
Austin Gomez - University of Tennessee
Stephen Goodman - University of Denver
Jesse Gordon - Yeshiva University
Richard Grant - The Ohio State University
Andrew Harris - DePaul University
Ryan Heidrick - University of Arkansas
Jared Holst - East Carolina University
Anders Hultgren - Northern Arizona University
Jonathan Jaroslawicz - Yeshiva University
Eric Klausner - University of Florida
Josh Lodatto - Louisiana Tech University
James Loglisci - Stony Brook University
Ricky May - California State University Fullerton
Justin Murphy - Penn State University
Tyler Murray - DePaul University
Taylor Mylar - Louisiana Tech University
Joey Nahay - University of Akron
Brendan Nicholson - University of Florida
Thomas Palermo - Stony Brook University
Trevor Riffey - Northern Arizona University
Jesse Rooney - University of Arizona
David Santos - University of Arizona
Justin Schaumberg - East Carolina University
Jacob Schulte - Kansas State University
Mike Smith - University of Akron
Quinton Stallings - East Carolina University
Jack Tafallos - State University of New York at Oswego
Drake Williams - Illinois State University
Michael Wood - California State University Chico
DIVISION III
1st Team:
Chris Visico – Lindenwood University
Patrick Clark - Farmingdale State College
Jason Novak – Lindenwood University
Jake Escarcega – Lindenwood University
Charles Robinson – Lindenwood University
2nd Team:
Michael Santos - Farmingdale State College
Connor Ventura - Bethel University
Anthony Moran - Michigan State University
Thompson Teague - Lindenwood University
Daniel Perepezko - Farmingdale State College
Most Valuable Player: Jake Escarcega - Lindenwood University
Most Valuable Goaltender: Charles Robinson - Lindenwood University
Playmaker: Chris Visico - Lindenwood University
Honorable Mention:
Anthony Accardi - Hofstra University
Julian Andujar - Neumann University
Nate Bazydlo - Michigan State University
Nick Casazza - Farmingdale State College
Ryan Chilton - Bethel University
John Clark - Rowan University
Owen Deleskey - Neumann University
Chris Dellavecchia - Hofstra University
Jeffrey DeSalvo - Neumann University
Matthew Diliberto - Florida Gulf Coast University
Patrick Dowling - Lindenwood University
Ryan Fischer - State University of New York at Cortland
Axl Frisina - Neumann University
Jonathan Gauthier - Lindenwood University
Tyler Glenfield - Grand Valley State University
Frank Guida - Farmingdale State College
Wes Guthrie - Grand Valley State University
Blake Kaprelyan - California State University Fullerton
Stephen Krause - Michigan State University
Spenser Marquiss - Lindenwood University
Joshua McShane - Rowan University
Adam Orr - University of Missouri
Stefen Rosner - State University of New York at Cortland
Justin Sims - Grand Valley State University
Noah Sinz - Bethel University
Jimmy Teed - Bethel University
Mike Wallach - Rowan University

JUNIOR COLLEGE DIVISION
1st Team:
Matt Swanson - West Valley College
Thomas Hartshorn - West Valley College
Jarritt Baker - West Valley College
Tyler Gulan - West Valley College
Jack Robinson - West Valley College
2nd Team:
Patrick Barnes - West Valley College
Tyler McAtee - St. Charles Community College
Andrew Klingemann - St. Louis Community College
Logan Titus - West Valley College
Kevin Bourbon - St. Charles Community College
Most Valuable Player: Jarritt Baker - West Valley College
Most Valuable Goaltender: Jack Robinson - West Valley College
Playmaker: Matt Swanson - West Valley College
Honorable Mention:
Nicholas Defayette - West Valley College
PJ Drury - St. Charles Community College
Brendan Huber - St. Charles Community College
Marcus Laspe - St. Charles Community College
Jacob Murphy - St. Louis Community College
Nathan Olocki - West Valley College
Tyler Plaggenburg - St. Louis Community College
Jeff Reed - St. Louis Community College
Danny Salazar - West Valley College