West Valley Caps off Successful Season
Vikings Win JC National Championship
April 12th, 2017 at 8:19AM
April 13th, 2017 11:36PM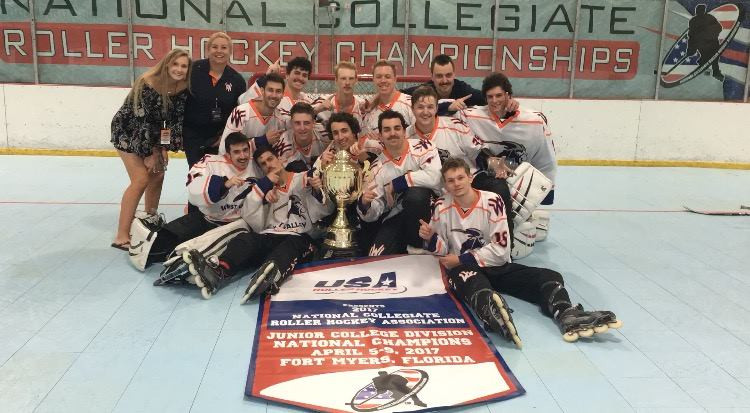 ---
There was no doubt that West Valley College went into the 2016-17 season with the goal of contending for another National Championship, just as they had the year before. A program building off of a successful inaugural campaign, including a trip to Cedar Rapids and a Junior College National Runner-Up finish at the 2016 National Collegiate Roller Hockey Championships, was now building something much bigger this time around. Little did they know that tryouts would be so well attended that they would find a few new faces to add to their top team while simultaneously being able to form a second team to play Division III in the Western Collegiate Roller Hockey League (WCRHL).

But more importantly, the Vikings had been too close to the taste of victory last season to allow it to slip through the cracks again. Returning eight skaters and a strong goaltender in Jack Robinson, but losing their best player from last season, Kyle Aldrich, who left to play professionally in France, the Vikings entered the 2016-17 season with something to prove. That started during the regular season. As the only Junior College team in the WCRHL, West Valley College played a hybrid schedule, similar to JC Nationals opponents St. Charles Community College and St. Louis Community College.
​
"We were pretty grateful for all the opportunities we had to play against really good DI teams this season and last year we had a really good competitor in St. Charles so we didn't really know what to expect going into this year; we just wanted to get fired up and see how we could do," said 2nd year goaltender Jack Robinson.

That's exactly what they did.

Between Matt Swanson, who led the team in goals and points, Robinson in net, and Thomas Hartshorn, who led the team in assists and was 2nd in points, alongside a deep bench of experienced roller hockey players, the Vikings competed all season in the WCRHL, securing wins over marquee NCRHA teams in both Division I and Division II, including an exhibition win in February over Division I Final Four participants UC Santa Barbara, and a February regular season victory over Division II National Champion, CSU Fullerton.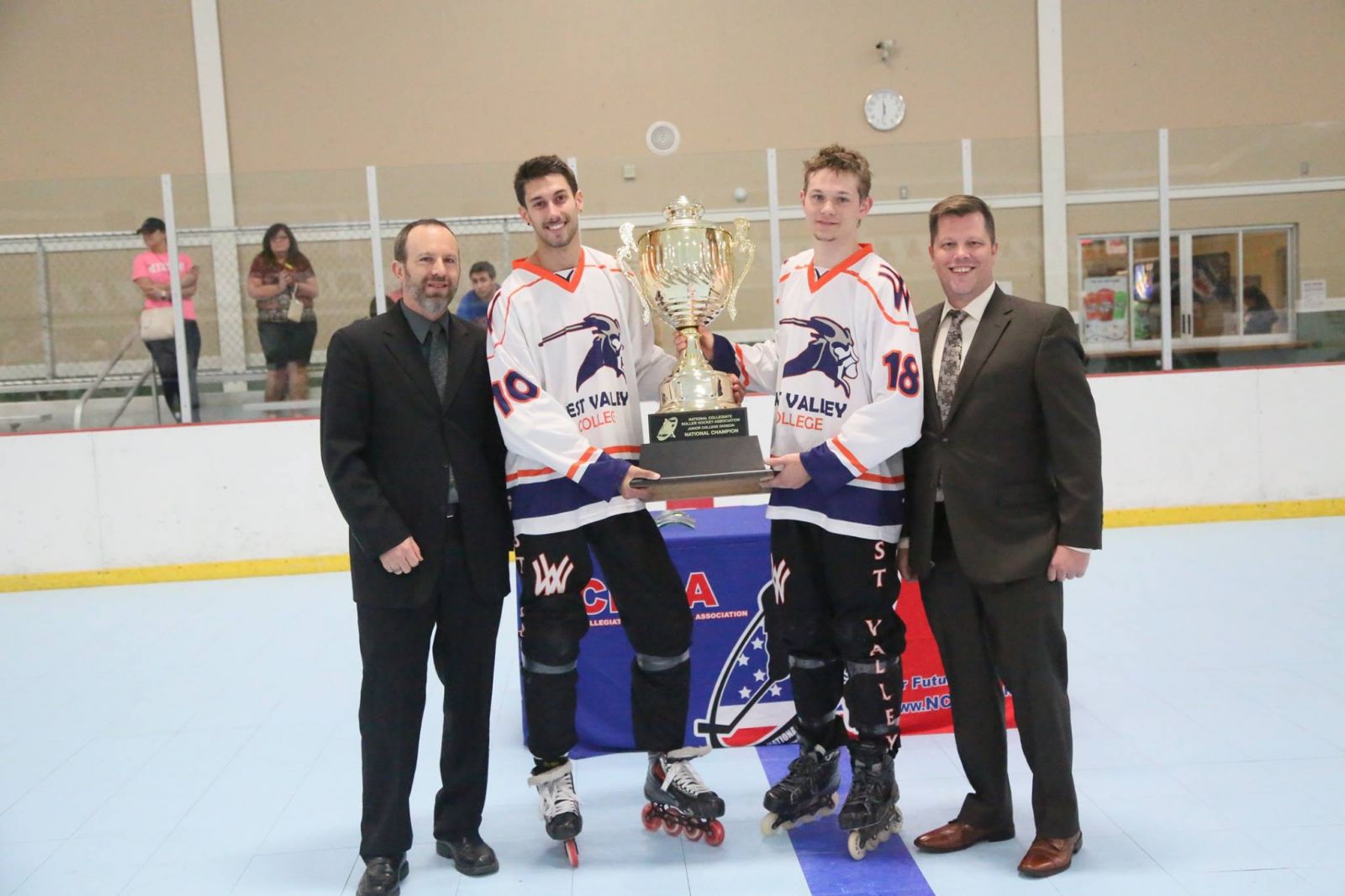 Without a conference opponent to play at the WCRHL Championships, West Valley College finished their season in mid-February and began to prepare for Nationals, getting skates in at their home rink, Silver Creek Sportsplex. They arrived in Fort Myers about six weeks removed from playing a collegiate game, but ready to achieve their goal of bringing back the Junior College National Championship trophy and banner back to Northern California.

In a three-team division – all three teams would play each other twice for a total of four games played with the top two teams advancing to the National Championship game – the Vikings came out firing on all cylinders, winning all four games they played against St. Louis CC and St. Charles CC, outscoring their opponents 44-5. Their opponent would be St. Charles Community College, from Cottleville, Missouri – a perfect story for the Vikings, who would get to match up against the Cougars, who took down the St. Louis Community College Archers 9-5 in a decisive game that determined who would play for the title.

The Vikings would get to play last year's Junior College National Champions, the same team that prevented them from lifting the cup in Cedar Rapids. This time, they were ready to go, coming out with four goals in the first period to take a 4-0 lead on St. Charles. The Vikings would never look back; Logan Titus scored four goals, Jarritt Baker had four assists, and the rest of the team continued to roll all game. The 10-0 win over St. Charles Community College sealed the deal.

The West Valley College Vikings: 2017 NCRHA Junior College National Champions.

"It's been an honor coaching a group of guys that I grew up playing with," said Coach Alex Jagiello, who also mentioned the Vikings would not have been able to accomplish what they did this year without Coach Jose Mondragon, who was unable to make the trip.

Jagiello continued to praise the squad he felt closely connected with. "I've known most of them for 5 years now and when I got the opportunity to coach them it was a no brainer... they're a great group on and off the rink and I think the chemistry they have on the rink correlates to the friendships they have built off of it. I could not be more proud."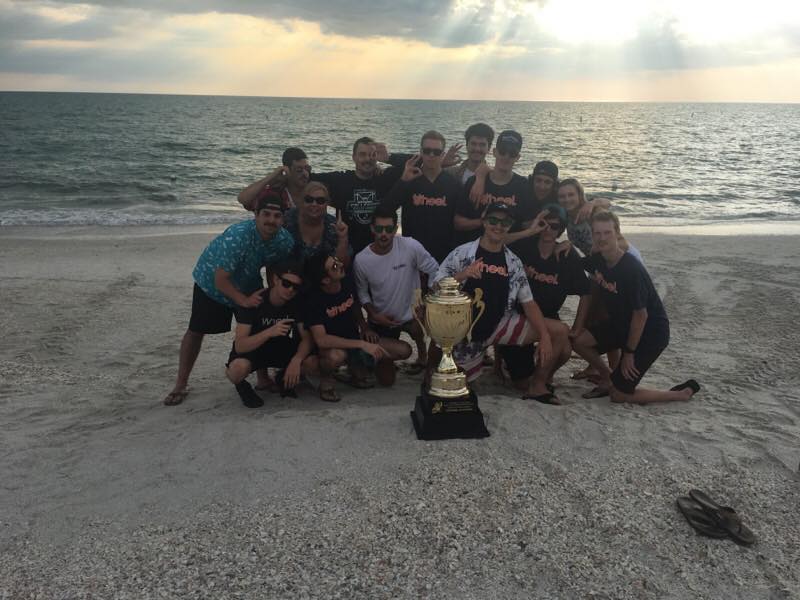 Before the Vikings left Fort Myers, this tight knit group decided they still had one more thing to do... enjoy a trip to the beach with the National Championship trophy. Just like their accomplishments this season, they were able to check that off, too.