Meet Your Division 1 Final Four
Lindenwood, Michigan State, Farmingdale State, and UC Santa Barbara FaceOff This Afternoon
April 8th, 2017 at 9:02AM
April 8th, 2017 2:24PM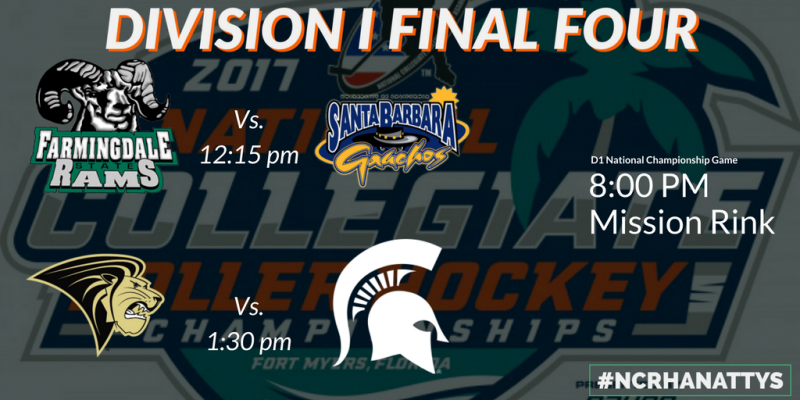 ---
By Ian Prescott (Of NCRHA Coast 2 Coast)
Today marks the beginning of the end for the Division 1 portion of the NCRHA National Championships. Four elite programs face off this afternoon on the Mission Rink in Ft. Myers, FL. They are each playing for a chance to compete for the coveted NCRHA National Championship; the culmination of our year long season. Here's the Keys to the game for each team
Game 1 - Farmingdale State College Rams v. UC Santa Barbara Gauchos
12:15 Mission Rink
How the Rams will win: Control the tempo of the game
Rationale: The Rams function best when using surgical precision passing. However those spaces can only be created when they play at a deliberate pace. They pressure teams into turnovers and allowing odd man rushes through relentless forechecking. If the Rams maintain puck possession they'll control the game.
How the Gauchos will win: Don't panic
Rationale: It's feasible that the Rams will score the first goal of the game. In some situations that will lead to teams chasing the game and getting away from their strengths. The Gauchos can't afford being pulled out of their "Cali-Style" play style. Kyle Mooney and Kyle Clements will have to model composure for the rest of the UCSB side.
Game 2 - Michigan State University Spartans v. Lindenwood University Lions
1:30 Mission Rink
How the Lions will win: Score first
Rationale: Lindenwood has made a brand around being the NCRHA's premier program. Sometimes that alone is enough to unsettle the psyche of their opponents. Inversely, playing from behind isn't necessarily the Lions forte. Despite wins against Bethel, and Michigan State in Round Robin came after falling behind. But clawing back in the later rounds isn't the ideal situation for any team, let alone a team that's been doing it a majority of the week. If they score first, the Lions can play their type of game on their own terms.
How the Spartans will win: Forget everything that happened before today
Rationale: Having a short memory is beneficial in championship hockey. The Spartans have not had success traditionally against the Lions and the last time the NCRHA National Championships were in Ft. Myers, the Lions took the championship from the Spartans through imposing their will. In pool play Michigan State, dropped an overtime loss to these same Lions. However that was then, this is now. Mental fortitude will be the name of the game for the Spartans if they want a chance to play UCSB or Farmingdale.