2016 All-Tournament Teams Announced!
Most Valuable Player, Most Valuable Goaltender, and Playmaker chosen for each division!
June 1st, 2016 at 7:14PM
June 2nd, 2016 12:19AM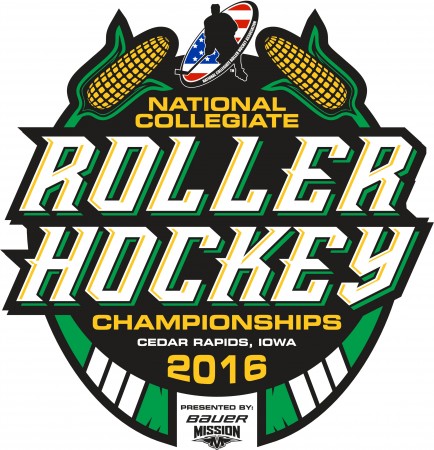 ---
Congratulations to all the teams and student athletes who participated at the 2016 National Collegiate Roller Hockey Championships in Cedar Rapids, Iowa. The NCRHA would like to further recognize the following players, who have earned the honor of being selected for the 2016 All-Tournament Team. Congratulations to all!
DIVISION I
1st Team:
Tyler Kraft - Neumann University
Andrew Tamura – University of Nevada Las Vegas
Shane Fox – Neumann University
PJ DiMartino – Neumann University
Michael Maczynski – Neumann University
2nd Team:
Trenton Matteson – Lindenwood University
Austin Shannon – University of Nevada Las Vegas
Taylor Abramson – California State University, Long Beach
Eric Purcell – Michigan State University
Blake Lochhead – Bethel University
Most Valuable Player: PJ DiMartino – Neumann University
Most Valuable Goaltender: Blake Lochhead – Bethel University
Playmaker: Thomas Youmans – Neumann University
Honorable Mention:
Kyle Alvanas - University of Rhode Island
Andrew Ball - Bethel University
Jonathan Bebey - Temple University
Robert Berman - Lindenwood University
Tyler Bolyard - Bethel University
Mac Burkhard - Michigan State University
Nick Cafone - Florida Gulf Coast University
Joseph Coffin - Rowan University
Darren Corsatea - University of Nevada Las Vegas
Ryan Cotton - Arizona State University
Hayden Crocker - University of Missouri St. Louis
Bryan Dalton - Missouri State University
Thomas Dierl - Texas Tech University
Kevin Dwyer - Lindenwood University
Stephen Falkowski - University of Rhode Island
Alex Ford - Florida Gulf Coast University
Stephen Freund - University of Missouri St. Louis
Andrew Helbig - University of Missouri St. Louis
Jason Kichline - West Chester University
Anthony Kozlow - Neumann University
Hunter Ledgerwood - Eastern Michigan University
Ryan Marker - Neumann University
Terry Martin - University of Nevada Las Vegas
Stephen Miller - University of Colorado, Colorado Springs
Kevin Mooney - University of California Santa Barbara
Kyle Mooney - University of California Santa Barbara
Austin Murray - Texas Tech University
Cody Page - Lindenwood University
Garrett Polish - Grand Valley State University
Kevin Putnam - Miami University (OH)
Chris Rossolello - Farmingdale State College
Steven Scamorza - University of Nevada Las Vegas
Christian Scott - Slippery Rock University
Christopher Sharkey - Farmingdale State College
Logan Sussman - University of Nevada Las Vegas


DIVISION II
1st Team:
Ryan Dougherty – University of Massachusetts
Aaron Marcel – University of Massachusetts
Donald Brodd – University of Massachusetts
Daniel Nelson – SUNY Cortland
Jordan Davis – University of Massachusetts
2nd Team:
Steven Marvin – SUNY Cortland
John Duranczyk – University of Arkansas
Matt Engle – St. Joseph's University
Ryan Wolsiefer – University of Massachusetts
Ben Hobbs – SUNY Cortland
Most Valuable Player: Donald Brodd – University of Massachusetts
Most Valuable Goaltender: Jordan Davis – University of Massachusetts
Playmaker: Quinton Stallings – East Carolina University

Honorable Mention:
Daniel Arnold - Western Michigan University
Brad Bogus - Robert Morris University
Jason Burtch - University of Florida
Nolan Carrier - University of Massachusetts
Lofan Cherni - University of Akron
Robert Clark - SUNY Cortland
Zachary Claunch - California State University Chico
Michael Curtis - University of Tennessee Knoxville
Chris D'Alessio - St. Joseph's University
Brian Danziger - SUNY Cortland
Billy DeMeyer - Michigan Tech
Keegan Durment - University of Denver
Chris Fidotta - SUNY Cortland
Brandon Fonacier - California State University Fullerton
Ryan Heidrick - University of Arkansas
Andrew Kelley - University of Massachusetts
Travis Kilcommons - Louisiana Tech
Kirby Kinslow - University of Tennessee Knoxville
Josh Lodatto - Louisiana Tech
Jack Mali - University of Tennessee Knoxville
Joey Nahay - University of Akron
Kevin Ott - East Carolina University
David Ouellette - Stony Brook University
Andy Rinck - Missouri S&T
Andrew Rogantino - University of Massachusetts
Jesse Rooney - University of Arizona
Jacob Schulte - Kansas State University
Matthew Smeltzer - Robert Morris University
Cesar Soto - University of Denver
JT Tarantino - St. Joseph's University
Dan Trunk - Robert Morris University
Andrew Walck - Syracuse University
Harrison Wayne - Robert Morris University


DIVISION III
1st Team:
Spenser Marquiss – Lindenwood University
Andrew Saunders – Michigan State University
Jason Novak – Lindenwood University
Jake Escarcega – Lindenwood University
Charles Robinson – Lindenwood University
2nd Team:
Matt Paccagnan – Bethel University
Chris Visico – Lindenwood University
Petar Elieff – Grand Valley State University
Kevin Clark – Michigan State University
Noah Sinz – Bethel University
Most Valuable Player: Spenser Marquiss - Lindenwood University
Most Valuable Goaltender: Charles Robinson - Lindenwood University
Playmaker: Matt Paccagnan – Bethel University
Honorable Mention:
Kevin Ambrose - Florida Gulf Coast University
Eric Bautista - Arizona State University
Jake Delcambre - University of Missouri
Brad Denmead - Slippery Rock University
Nick DeSalvo - Neumann University
Trevor Frye - Michigan State University
Jonathan Gauthier - Lindenwood University
William Gregg - Neumann University
Frank Guida - Farmingdale State College
Nicholas Klausner - Rowan University
Dominic Knowles - Bethel University
Joseph Mula - Neumann University
Nick Podany - Texas Tech University
Parker Poore - Lindenwood University
Thomas Potts - Bethel University
Aryeh Richter - Arizona State University
Greg Saklad - Neumann University
Jeremy Schmaltz - Grand Valley State University
Matt Sobecki - Michigan State University
Carl Soderling - Grand Valley State University
Michael Strofe - Neumann University
Ryan Werner - Michigan State University
Chad Wolterman - Lindenwood University
JUNIOR COLLEGE DIVISION
1st Team:
Joseph Rupp – St. Charles Community College
Zach Micks – St. Charles Community College
Kyle Aldrich – West Valley College
Dillian Mulverhill - St. Charles Community College
David Farley – St. Charles Community College
2nd Team:
Thomas Harshorn – West Valley College
Jake Abel - St. Charles Community College
Matt Swanson – West Valley College
Tyler Gulan – West Valley College
Jack Robinson – West Valley College
Most Valuable Player: Zach Micks – St. Charles Community College
Most Valuable Goaltender: David Farley – St. Charles Community College
Playmaker: Dillian Mulverhill – St. Charles Community College
Honorable Mention:
Jarritt Baker - West Valley College
Patrick Barnes - West Valley College
Tom Haeffner - St. Charles Community College
James McGaughy - West Valley College
Tyler McPherson - West Valley College
RJ Stacy - St. Charles Community College
Dillan Timme - St. Charles Community College
Jacob Yerkey - St. Charles Community College