NCRHA and Mission-Bauer announce new puck for 2016-2017 season!
Bauer Slivvver Puck is the new official puck of the NCRHA
May 25th, 2016 at 1:02PM
May 25th, 2016 6:01PM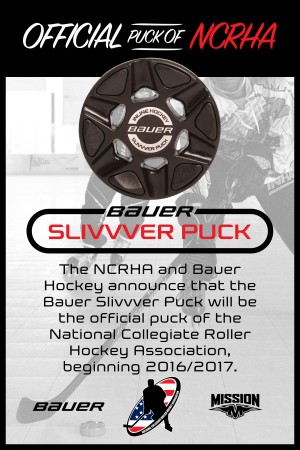 ---
The NCRHA and Bauer Hockey announce that the Bauer Slivvver Puck will be the official puck of the National Collegiate Roller Hockey Association, beginning in the 2016-2017 season.
"We are very proud of our relationship with the NCRHA. This only further deepends our partnership and we look forward to continuing the growth and exposure of college roller hockey," says Sean Riley of Mission-Bauer Hockey.
"We are looking forward to using the Slivvver Puck this upcoming season. Both Mission-Bauer and NCRHA have tested the puck and we believe teams will be happy with its performance," says Brennan Edwards, Executive Director of the NCRHA.
Team ordering information will be available soon.
Stay tuned to NCRHA.org and NCRHA Facebook/Twitter pages for more information.